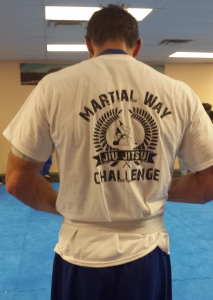 Attention Cross-Fitters, Spartan Racers, Tough Mudders, Ninja Warriors, and Fitness Athletes of All Kinds: Introducing the Martial Way Jiu-Jitsu Challenge!
There is a new breed of recreational athlete today – men and women who train not just to play a sport or game, but for the challenge of overcoming extreme physical obstacles. We think you'll find that the sport of Jiu Jitsu provides such a challenge, and we are looking for men and women who are tough enough to accept it.
There will be no barbed wire, mud pits, or climbing walls. The challenge is simple – one hour of "rolling" (Jiu-Jitsu sparring) against multiple opponents. We provide 6 weeks of training, the required uniform, and a group of trained sparring partners. You provide your determination, toughness, and the willingness to test your physical limits. We will teach you the basic skills required for the challenge, and give you tips on how to tailor your own conditioning regimen for the demands of the event.
Training for the Challenge begins the week of September 17th with six-weeks of unlimited classes in Brazilian Jiu-Jitsu at either Martial Way location, a personal Jiu-Jitsu mentor, a new Jiu-Jitsu uniform, and trained sparring partners.  The Challenge takes place on Tuesday, October 30th, at 7:00pm at Martial Way in Colchester. Those who successfully finish the Challenge, you will be rewarded with a Jiu-Jitsu Challenge t-shirt, a Jiu-Jitsu Challenge medal, and the understanding that hard work really IS fun.

For ages 18 and up, the cost for the event is $150 for non-members. The cost for members will depend on the member's program. This includes:
6 weeks of unlimited Brazilian Jiu-Jitsu Classes at Martial Way's two locations
a Jiu-Jitsu uniform
a personal coach
a Jiu-Jitsu Challenge T-shirt and a Jiu-Jitsu Challenge Medal (for finishers only)
No prior experience in Jiu-Jitsu is recommended.  Registration is OPEN but closes by midnight on September 10th, so sign-up now! Email info@MartialWayVT.com with questions.
We hope to see you on the mat!