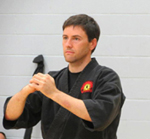 Jamie LeBlanc, Lead Instructor
4th Degree Black Belt, Kempo-Jujitsu – 3rd Degree Black Belt, Shaolin Kempo, Blue Belt – Arnis De Mano, Blue Belt – Brazilian Jiu-Jitsu
20+ years training
Jamie came to Martial Way in 2010 with 13+ years of Shaolin Kempo experience from the Vallari's System. Has taught many types of classes and has extensive weapons training.
Cross-trained in Brazilian Jiu-Jitsu, Chin Na, Wing Chun, Small Circle Jiu-Jitsu, and Arnis. Weapons training includs Bo Staff, Sai, Katana, Wakizashi, Nunchuks, Kamas, Escrima Sticks, Tonfa, Kubaton, and various knives (including karambit and butterfly knives).
Jamie has 14+ years of teaching, including Adult Kempo, Brazilian Jiu-Jitsu, Small Circle Jiu-Jitsu, Point Sparring, Kubotan, Women's Self-Defense, and multiple levels of Children's Kempo.