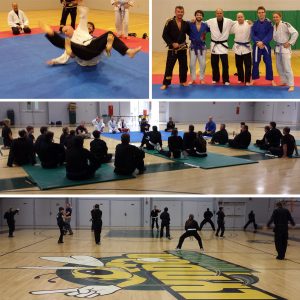 Martial Way's 3-day weekend martial arts camp for our adult students offers a chance for total immersion in Kempo-Jujitsu, Brazilian Jiu-Jitsu, or some of both–as well as the opportunity to participate in a variety martial arts seminars. Past seminars have included hand-gun disarm training, baton training, functional conditioning for the combat athlete, and Arnis. In addition to this intensive martial arts training, Martial Way's adult Kempo-Jujitsu brown and black belt tests run concurrently and add to the overall celebration of the martial arts.
Registration is now OPEN for Martial Way's adult Kempo and BJJ students. Camp is held at Northern Vermont University in Lyndon, Vermont, beginning Friday afternoon through Sunday afternoon, August 2, 3 and 4, 2019.  Registration fee includes lodging, meals, and training. Please see the information below, email info@MartialWayVT.com with questions or talk to your instructor to learn more about this training opportunity. We hope to see you in Lyndon!
---
Weekend Martial Arts Camp for Adults
August 2, 3 and 4, 2019 • Friday afternoon through Sunday afternoon • Northern Vermont University • Lyndon, VT
Register online or at Martial Way in Colchester or Milton. Save $40 and sign-up NOW!
•Register by 2/28 – $220
•Register by 4/30 – $240
•Register after 4/30 – $260