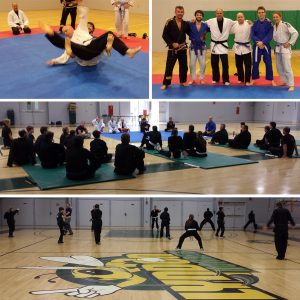 Martial Way's 3-day weekend martial arts camp for our adult students offers a chance for total immersion in Kempo-Jujitsu, Brazilian Jiu-Jitsu, or some of both–as well as the opportunity to participate in a variety of martial arts seminars. Past seminars have included hand-gun disarm training, baton training, functional conditioning for the combat athlete, and Arnis. In addition to this intensive martial arts training, Martial Way's adult Kempo-Jujitsu brown and black belt tests run concurrently and add to the overall celebration of the martial arts.
Who: Martial Way Kempo and BJJ Adult Students (age 18+). All levels are welcome!
When: Friday (5pm) through Sunday (4pm), July 30, 31, and August 1, 2021
Where: Northern Vermont University, Lyndonville, VT
Why: You can learn as much in this one weekend than in six months of classes! Camp training time, after warmup, totals approximately 15 hours of instruction and practice. Most classes, after warm-up, average 30-40 minutes of instruction and practice which means weekend of training equals 23-30 classes' worth of instruction and practice!
Fee: $275, if registered by June 30, 2021. $325, if registered by July 29, 2021. Price includes lodging, meals, and training.