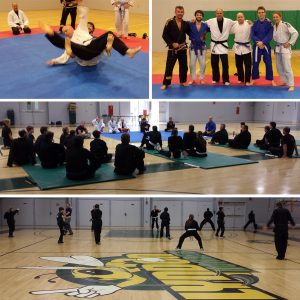 Martial Way's 3-day or 4-day weekend martial arts camp for our adult students offers a chance for total immersion in Kempo-Jujitsu, Brazilian Jiu-Jitsu, or some of both–as well as the opportunity to participate in a variety of martial arts seminars. Past seminars have included hand-gun disarm training, baton training, functional conditioning for the combat athlete, and Arnis. In addition to this intensive martial arts training, Martial Way's adult Kempo-Jujitsu brown and black belt tests run concurrently and add to the overall celebration of the martial arts.
Camp will be held at Northern Vermont University in Lyndon, Vermont, from July 30, 2020 through August 2, 2020, and we are offering two training options–the Regular Weekend and the Long Weekend. Registration fee includes lodging, meals, and training. Please see the information below, email info@MartialWayVT.com with questions or talk to your instructor to learn more about this training opportunity. We hope to see you in Lyndon in 2020!
---
Weekend Martial Arts Camp for Adults
 Northern Vermont University • Lyndon, VT
Regular Weekend (Friday, July 31, 6:30pm through Sunday, August 2, 4:00pm) – $300
Long Weekend (Thursday, July 30, 2:00pm through Sunday, August 2, 4:00pm) –$425
Register in Person at Martial Way
Tentative Camp Schedule
Long Weekend
Thursday, July 30
2:00 – 5:00pm    Targeting: Use of high-level force striking tactics, including medical, legal and ethical consideration.
7:00 – 9:30pm    Grounded fighting: Grappling to survive a violent encounter.
Friday, July 31
9:00 – 11:30am   Padded suit reaction training: Scenario-based drills, allowing full-contact defensive tactics.
2:00 – 5:00pm    Review and practice all SSDS skills.
Regular and Long Weekend
Friday, July 31
5:00 – 6:00pm   Room Check-In
5:30pm               Kempo Black Belt Test
6:15pm                BJJ and Kempo Training
8:30 – 9:15pm    Late Night Café Open
9:30 – 10:30pm  Martial Arts Seminar (optional)
9:30 – 10:30pm   Martial Arts Seminar (optional)
Saturday, August 1
6:15 – 7:15am      Kettlebell Training (Quinlan) (optional)
6:15 – 7:15am      H.I.I.Ts (Bloom) (optional)
7:30 – 8:30am     Breakfast
9:00 – 11:30am   BJJ and Kempo Training*
12:00 – 1:00pm   Lunch (Stevens Dining Hall)
2:00pm                BJJ and Kempo Training*
4:00 – 5:00pm    Martial Way's Epic Water Polo Match (optional)
5:30 – 6:30pm    Dinner
7:00pm                BJJ and Kempo Training*
8:30 – 9:15pm     Late Night Café Open
9:30 – 10:30pm   Martial Arts Seminar (optional)
9:30 – 10:30pm   Martial Arts Seminar (optional)
Sunday, August 2
6:30 – 7:15am       Kettlebell Training (Quinlan) (optional)
7:30 – 8:30am      Breakfast
9:00am                  BJJ and Kempo Training*
12:00 – 1:00pm    Lunch
2:00pm                 BJJ and Kempo Training and Testing
4:00 – 4:30pm     Room Check-Out
*(Training sessions may include a choice of special topics such as Advanced Tonfa, basic striking for BJJ practitioners and basic grappling for Kempo practitioners.)