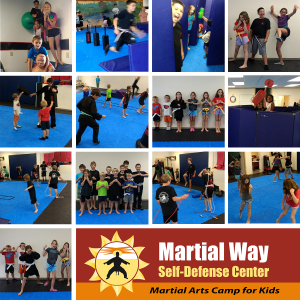 Martial Way's Martial Arts Camps for children (ages 6 through 13) provide fun days of engaging physical activity. Children respond to the action and excitement of the martial arts, while parents appreciate the discipline, focus, and important life skills it teaches. Camp is a great way for newcomers to get an introduction to the martial arts, and for current students to practice and learn more about the martial arts. Many come away with great friends and an exciting week full of activity!
Camps are held at Martial Way Self-Defense Center in Colchester (73 Prim Road) and begin at 9:00am and conclude at 3:00pm.  Please see below for more details.
Sensei Quinlan and his Camp Staff hope to see you at the dojo this summer!
---
Summer Martial Arts Camps for 2021
Ages 6 through 13
June 21st – 25th • 9:00am to 3:00pm • REGISTER HERE
July 12th – 16th • 9:00am to 3:00pm • REGISTER HERE
Registration Fees
Registered less than 1 month in advance – $275 per week
Registered and paid in full 1 month or more in advance – $250 per week
(Individual Days are $65 per day, when available. Please contact us by email or by phone (802-863-8863) to make arrangements.)