Martial Arts Camps for Children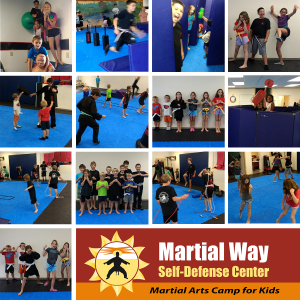 Martial Way's Martial Arts Camps for children (ages 6 through 13) provide fun days of engaging physical activity. Children respond to the action and excitement of the martial arts, while parents appreciate the discipline, focus, and important life skills it teaches. Camp is a great way for newcomers to get an introduction to the martial arts, and for current students to practice and learn new martial arts moves. Many come away with great friends and an exciting week full of activity!
Camps are held at Martial Way Self-Defense Center in Colchester (73 Prim Road). Please see below for more details.
Sensei Quinlan and Martial Way's Camp Staff hope to see you at the dojo!
---
Summer Martial Arts Camps for 2021
Ages 6 through 13
June 21st – 25th • 9:00am to 3:00pm • This camp is FULL, but REGISTER HERE for the waiting list.
July 12th – 16th • 9:00am to 3:00pm • This camp is FULL, but REGISTER HERE for the waiting list.
Registration Fees
Registered less than 1 month in advance – $275 per week
Registered and paid in full 1 month or more in advance – $250 per week
(Individual Days are $65 per day, when available. Please contact us by email or by phone (802-863-8863) to make arrangements.)
---
Martial Arts Camp for Adults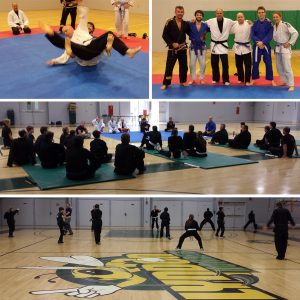 Martial Way's 3-day weekend martial arts camp for our adult students offers a chance for total immersion in Kempo-Jujitsu, Brazilian Jiu-Jitsu, or some of both–as well as the opportunity to participate in a variety martial arts seminars. Past seminars have included hand-gun disarm training, baton training, functional conditioning for the combat athlete, and Arnis. In addition to this intensive martial arts training, Martial Way's adult Kempo-Jujitsu brown and black belt tests run concurrently and add to the overall celebration of the martial arts.
Who: Martial Way Kempo and BJJ Adult Students (age 18+). All levels are welcome!
When: Friday (5pm) through Sunday (4pm), July 30, 31, and August 1, 2021
Where: Northern Vermont University, Lyndonville, VT
Why: You can learn as much in this one weekend than in six months of classes! Camp training time, after warmup, totals approximately 15 hours of instruction and practice. Most classes, after warm-up, average 30-40 minutes of instruction and practice which means weekend of training equals 23-30 classes' worth of instruction and practice!
Fee: $275, if registered by June 30, 2021. $325, if registered by July 29, 2021. Price includes lodging, meals, and training.